New Minibuses!
New Minibuses!
6 July 2015 (by MrsBennett)
Our new minibuses have arrived!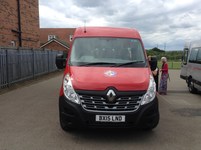 To the delight of all the children and staff, we took delivery of two brand new Renault Minibuses! Everyone is welcome to have a good look inside the new minibuses to see what we have been able to provide for the children, just ask Mrs. Weetman or Mr. Watchman to unlock the buses when you see them parked up in the car park.